WE ARE NANAPAN
COMPANY PROFILE
WE ARE NANAPAN
NANAPAN GROUP
Nanapan Group of company. was established by foreseeing the increase in market demand and the desire to expand production base to be able to support a variety of products to efficiently meet customer needs. Nanapan Group Co., Ltd. are including.
NANAPAN GROUP
GROUP OF COMPANY
GLOBAL
STANDARD & SERVICE
According to our careful selection on quality ingredients through research and development, our product quality has been certified by the GMP, HACCP in hygienic quality of Thai Jamine Rice, also achieved Thai Hom Mali Rice certificate by Department Of Foreign Trade to Guaranteed Original Thai Hom Mali Rice.
Originally from a small transportation business company located on Songwad Road, where many well-known companies are originated which they grown to influence and developed the direction of Thailand economy of today.
Nanapan Group of company has then begun moving into agricultural commodities business towards wholesale for domestic market and then move on to exporting for international market. We do operate business with passion and sincerity in paying close attention to our various dear customers. We are fully entrusted by wide range of customers which leads to our financial stability with strong profitable growth.
FIRST FACTORY
Nanapan Group of company invested the first factory at Phrapradaeng district, Samut Prakan province in order to improve product quality and quantity to meet the various requirements of the market.
Expanding Demand
With the expanding demand for the products and also increase in wider range of more different products, Nanapan Group of company decided to purchase and renovate second factory at Tareua district, Ayutthaya province and building up third factory in Uthai Thani province.
Nanapan Group
Currently, Nanapan Group of company has hugely invested in a new bigger factory at Lat Bua Luang district, Ayutthaya Province by adopting up-to-date advanced technology to produce a variety format of products to satisfy the needs of customers. We are also able to control the production quality to meet international standards such as GMP, HACCP and export products all over the world.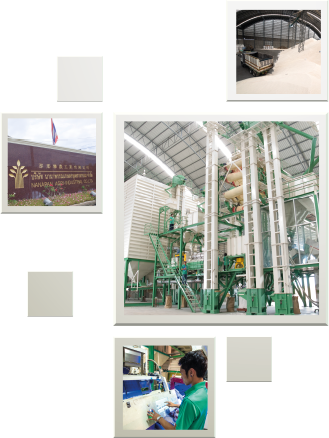 From past till present, it has been more than 50 years that we has been operating agriculture business in Thailand. This shows strong proof towards our strong commitment and dedication to produce and develop only the best quality products for our customers throughout the world. We will put our future effort to continue to be a leading importer and exporter of major agricultural items in Thailand and remain relentless towards business development together with social and environmental responsibility for future growth.